Sean Henry (British, b. 1965) is a sculptor originally from Surrey, England. At the age of 18, he made the decision to create sculpture after becoming inspired by the artwork he saw while visiting Florence, Italy.

The theme of Henry's sculpture is the tension between the making and staging of figures that seem to belong to the real world, and the degree to which they echo our experiences and sympathies.

Henry's sculptures are individually painted by the artist using oil paint on the bronze surface. Each sculpture is like a three-dimensional painting, and the technique makes it possible for Henry to infuse his works with personality and character. Henry's figures, like those of Albert Giacometti, are frozen in time, as if poised and about to move. But unlike Giacometti or any modern sculptor, Henry's oil painting technique gives a sense of personal immediacy and depth of emotion to every figure.

Henry has been exhibited widely throughout the United States and Europe. Over the years, he has shown at the Royal Festival Hall, the Victoria and Albert Museum, and the Society of Sculptors in London, as well as the Glasgow Art Fair in Scotland, Holdsworth Galleries in Australia, and Art Miami (with Berkeley Square Gallery, Florida).
Fired clay, oil paint, perspex and wood
Edition of 5
86 x 152 x 30.5 cm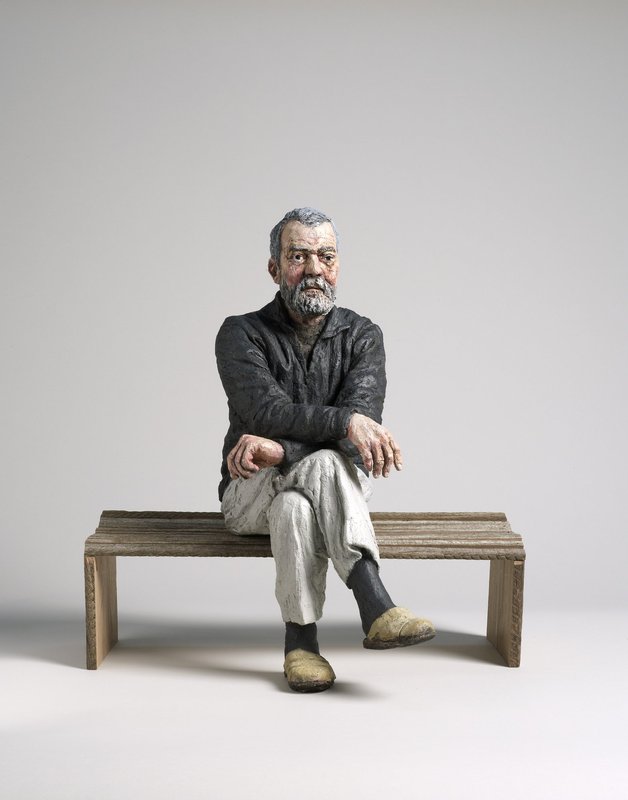 Bronze, oil paint and wood
Edition of 9
43 x 40 x 32 cm
Bronze and oil paint
Edition of 6
38 x 20 x 25 cm
Solo EXHIBITIONS
2015
Sean Henry, Forum Gallery, New York, NY

Bliackachsen 10, Hessenpark Museum, Nue-Anspach, Germany

Blickachsen 10, Saalburg Museum, Bad Homburg, Germany
2014
Sean Henry, Galerie Andersson Sandstrom, Stockholm, Sweden

Sleeper: LKFF Art & Sculpture Projects, Brussels, Belgium
2013
SEAN HENRY, Glyndebourne Opera House, Sussex, England
2012
THE WAY IT IS, Osborne Samuel Gallery, London
2011
Sean Henry: Conflux, A Union of the Sacred and the Anonymous, Salisbury Cathedral, Salisbury, England
2010
Sean Henry, Forum Gallery, New York, NY

Sean Henry Sculpture, Gallerie Andersson Sandstrom, Stockholm, Sweden
2008
New Sculpture and Drawing, Osbourne Samuel Gallery, London
2007
Präsenz – Presence, Galerie von Braunbehrens, München, Deutschland Galleri Andersson Sandtröm, Umea, Sweden
2006
You're Not the Same, Forum Gallery, New York and Los Angeles

Sean Henry: Sculpture, Cartwright Hall, Bradford, UK
2005
Sculpture and Drawings, Kunsthandel Frans Jacobs, Amsterdam, Holland
2004
Here and Now, Berkeley Square Gallery, London, England

Sculpture in the Workplace, Canary Wharf, London, UK

Sculpture at Goodwood, Goodwood, West Sussex, UK
2003
Lower Grainger Street, Newcastle-Upon-Tyne
2002
Sculpture and Drawings, Forum Gallery, New York and Los Angeles
2001
Sculpture and Drawings, Berkeley Square Gallery, London, UK
1999
A Pilgrimage, Davis and Tooth, London, UK
1998
The Centre of the Universe, Circolo Degli Artisti, Faenza, Italy
1997
Up Against It, Air Gallery, London
1995
New Sculptures and Drawings, John Natsoulas Gallery, Davis, CA
1994
The Flip-Side of Dominic Hyde, Holdsworth Gallery, Sydney, Australia
1991
Seven Heads, John Natsoulas Gallery, Davis, CA
1988
Inner Visions, 2 Michaelson & Orient Gallery, London
selected group EXHIBITIONS
2018
Forum Gallery: Second Annual Southampton Exhibition, MM Fine Art, Southampton, NY
2017-18
Fool the Eye, Nassau County Museum, Roslyn Harbor, NY
2017
Forum Gallery Celebrates 55 Years of Modern and Contemporary Art, Forum Gallery, New York, NY
2016
20/21 – VISIONARY ARTISTS OF THE 21ST CENTURY, Forum Gallery, New York, NY
2015
In Kleinen Format, Galerie Scheffel, Bad Homburg, Germany

TEFAF: Kunsthandel Frans Jacobs, Masstricht, Holland
2014
Ladies First: Galerie Von Braunbehrens, Munich, Germany

TEFAF: Kunsthandel Frans Jacobs, Masstricht, Holland

SCOPE: Kunsthandel Frans Jacobs, Basel, Switzerland
2013
In Kleinen Format, Galerie Scheffel, Bad Homburg, Germany

Heavy Metal and Stones, Galleri Andersson/ Sandstrom, Umea, Sweden

BLICKACHSEN 9, Galerie Scheffel, Bad Homburg, Germany

Summer Salon Show, Rarity Gallery, Mykonos, Greece

SCOPE, Frans Jacobs Fine Art, Basel, Switzerland
2012
Perception of Self, Forum Gallery, New York, NY

Five Decades: Art and Artists of Forum Gallery 1962-2012, Forum
Gallery, New York, NY

Presence, LKFF Art & Sculpture Projects, Brussels, Belgium

Interesting Times, University of Leicester, Harold Martin Botanic Garden, Leicester, UK
2011
Vantage Point 2011, Forum Gallery, New York, NY
2010
Contemporary Paintings, Drawings & Sculpture: A Summer Selection, Forum Gallery, New York, NY

Eigse 30 Year Visual Arts Retrospective, Carlow Town, Ireland

Liminality, Salisbury Cathedral, Salisbury, UK

Summer Exhibition, Osbourne Samuel Gallery, London
2009
Summer Selections, Forum Gallery, New York, NY

British Sculpture, Osbourne Samuel Gallery, London

London Art Fair, Osbourne Samuel, London, UK
2006
Summer Selections, Forum Gallery, Los Angeles, CA

Gallerie Stefan Anderson, Umea, Sweden

Umedalen Skulpturepark, Umea, Sweden

Tefaf Maastricht, Kunsthandel Frans Jacobs
2005
Figurative Impulse, Forum Gallery, Los Angeles, CA

Important New Works by Forum Gallery Artists, Forum Gallery, New York

Three Sculptors, Osborne Samuel, London

Contemporary Sculpture, Berkeley Square Gallery Golden Square, London

Sculpture, Soloman Gallery, Dublin, Ireland
2004
Canary Wharf, London Le Meridien Cumberland Hotel, Marble Arch, London

Sculpture in the Park, Durham
2002-3
Thinking Big: 21st Century British Sculpture, Peggy Guggenheim Collection, Venice, Italy
2002
Paddington Central Development, London River and Rowing Museum, Henley-On-Thames, Oxfordshire

About Face, Croyden Clocktower Museum, London, UK
2001
Salon de Mars, Geneva, Switzerland
2000
Classicismi Metropolitani, Rome, Italy